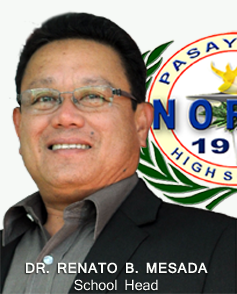 Welcome to our Official School Website
                    With all humility and honor, I welcome you, as the school's principal, to the official website of Pasay City North High School- M. dela Cruz. This website will serve as an avenue between DepEd, the students and the parents which hopefully would give important information about the school- updates and policies. I hope that through the 21st Century's innovation in technology will help everyone be connected which perhaps cement an unmovable camaraderie with each other. 
RBM Presides the 3rd Professional Meeting
     To ensure his compliance to Republic Act 9155 otherwise known as "Governance of Basic Education Act of 2011" specifies the role of a school head both as an instructional leader and administrative manager, Dr. Renato B. Mesada presided the 3rd professional meeting with the teaching and non-teaching personnel on March 16, 2018 at the school library at 11:00 AM. The meeting was focused on GAD planning, recognition, and graduation rites. Minor concerns and issues were also tackled by him. During the meeting he mentioned some key points on the ten-point agenda of Sec.  Leonor Briones which are commitment to K-12, strengthened ALS and keep children in school. He reminded the attendees the role of a teacher to keep the students in school.
       On the other hand, Dr. Mesada was very grateful for a great number of participants who attended on that day. It showed how the teaching and non-teaching personnel valued the importance of professional meeting to them. In addition, aside from being punctual in all his meetings he practiced some of the essential skills of leadership of 21st century which are contribute uniqueness, act effectively and embrace change.
by: ROGER B. ESCARILLA
Assistant to the Principal
PCNHS-Main Opens Jan 27 as Early Registration Day in All Levels
   Dr. Renato B. Mesada spearheaded the roll out of 2018 early registration especially for incoming Grade-7 and Grade-11 Students in Pasay City North High School-Main on January 27, 2018. He emphasized the main objectives of the early registration which geared to ensure that learners who are in school continue their schooling; to map household in Barangay 129 and Barangay 130 and record information for potential enrollees of ALS which was facilitated by our ALS Instructional Manager, Ms. Oliva Parangga; to locate, identify and enroll out-of-school children and youth who have disabilities or in need of special education; and have dropped out but would like to go back to school. Ms. Zairah B. Bragado and Ms. Juvilyn P. Felicio, SPED Teachers sent by SDO, were present to assess the process for proper program grade placement during the enrolment of SPED students.      
by: ROGER B. ESCARILLA
Assistant to the Principal
Dr. Mesada holds Principal's Hour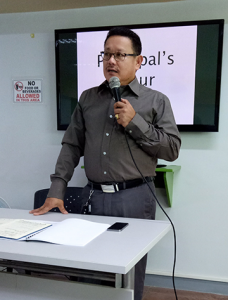 To revitalize and professionalize quality performance of every teacher in the school, Dr. Renato B. Mesada urged everyone present during his professional meeting with the Teachers, Master Teachers, Subject Coordinators, Guidance Coordinator and Department Heads on January 18, 2018, at the Library's AVR to strengthen collaboration among them. During his meeting, he emphasized the need for monitoring and proper evaluation and interpretation of test results especially the results of third periodic outcomes in all subject areas.
        Dr. Mesada has also given his feedbacks on his monitoring of classes for the month of January 2018. He further emphasized that new teachers should seek advice or assistance from the seasoned teachers and Department Heads the following concerns such as: classroom management, time management, deportment, and cleanliness inside and outside the classroom.

        The principal's hour was held to discuss and resolve issues and concerns in the first month of the year 2018.
by: ROGER B. ESCARILLA
Assistant to the Principal
Dr. Mesada joins the TVE writers for institutional assessment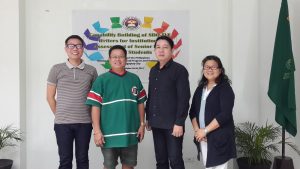 Relative to the implementation of K-12 Basic Education Program as the flagship reform of DepEd Pasay, a three-day training workshop of Technical Vocational Education (TVE) writers for institutional assessment of senior high school students was held at Helena Z. Benitez National Program and Training Center in Tagaytay last September 28-30, 2017. The training objectives were to formulate a quality test questions for three competencies: oral interview, skills performance or written and demonstration, and to gain insights to produce an output parallel to national competency assessment or aligned to TESDA competencies. Dr. Renato B. Mesada, PSDS and OIC-Principal of Pasay City North - Main, joined Mr. Roger Escarilla, Assistant Principal, and the SHS TVE writers to lead and to give moral support to the school's participants. There were about 65 TVE participants from different schools including Mr. Librado F. Torres, CID Chief, Mrs. Alicia Dela Pena, Education Program Supervisor in TLE, Secondary Principals and Assistant Principals and selected Department Heads. The tools that the TVE writers produced will be used to test the readiness or preparedness of the senior high school students before getting the national assessment this second semester of school year 2017-2018. ROGER ESCARILLA
Ombudsman recognizes L I V E
Office of the Ombudsman awards Leaders for Integrity, Victory and Education (LIVE) for it's meritorious achievement in the Campus Integrity Crusaders (CIC) Best School Project during the 2nd CIC Congress at Philippine Science High School, February 15.
Baranda caps Webpage Designing
Ms. Regine Baranda, Grade 9 ICT student, wins first place the Webpage Designing during Division Technolympics held at AMA- Makati Campus, January 13, 2016.
With the supervision of Mark Anthony Felix, Baranda, with her sharp memory, has able to sweep all other contenders of the webpage designing contest from all over Pasay.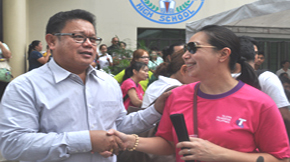 Telstra – Teletech Bayanihan Caravan 2015
  Telstra Foundation Philippines with PBSP held TELSTRA-Teletech Bayanihan Caravan 2015 last October 22- 23 , 20015 in PCNHS – Main School Grounds. They started the program by announcing their activities that would nurture every learner and encourage them to join the workshop.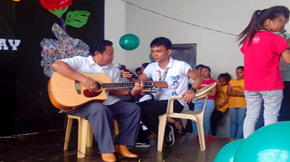 PCNHS Principal Sings during WTD Celebration
  Renato Mesada, Pasay City North High School's new principal, hailed the teachers with his lovely intermission number during World Teacher's Day.
   He sang the song Never Surrender by Cory Hart.
  "To all students, thank your teachers as they do their best to teach you in different learning areas. And to all teachers, never give up to teach our future heroes and love them as your own children,"Mesada said.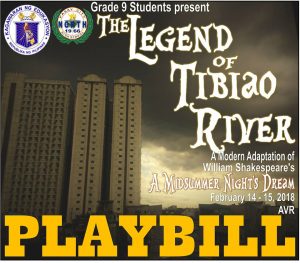 Mar 23
SHS Culminating Activity
Mar 30
Good Friday
Mar 31
Black Saturday

April 1



Recognition Day
April 6
Grade 10 Moving Up
April 6
SENIOR HIGH SCHOOL
1st Commencement Exercise