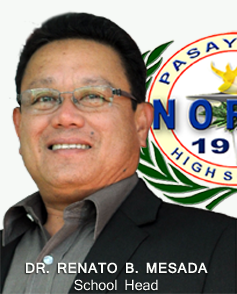 Welcome to our Official School Website
                    With all humility and honor, I welcome you, as the school's principal, to the official website of Pasay City North High School- M. dela Cruz. This website will serve as an avenue between DepEd, the students and the parents which hopefully would gave important information about the school- updates and policies. I hope that through the 21st Century's innovation in technology will help everyone be connected which perhaps cement an unmovable camaraderie with each other. 
Dr. Mesada joins the TVE writers for institutional assessment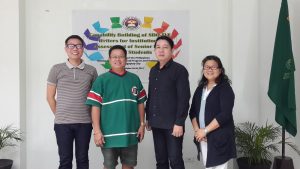 Relative to the implementation of K-12 Basic Education Program as the flagship reform of DepEd Pasay, a three-day training workshop of Technical Vocational Education (TVE) writers for institutional assessment of senior high school students was held at Helena Z. Benitez National Program and Training Center in Tagaytay last September 28-30, 2017. The training objectives were to formulate a quality test questions for three competencies: oral interview, skills performance or written and demonstration, and to gain insights to produce an output parallel to national competency assessment or aligned to TESDA competencies. Dr. Renato B. Mesada, PSDS and OIC-Principal of Pasay City North - Main, joined Mr. Roger Escarilla, Assistant Principal, and the SHS TVE writers to lead and to give moral support to the school's participants. There were about 65 TVE participants from different schools including Mr. Librado F. Torres, CID Chief, Mrs. Alicia Dela Pena, Education Program Supervisor in TLE, Secondary Principals and Assistant Principals and selected Department Heads. The tools that the TVE writers produced will be used to test the readiness or preparedness of the senior high school students before getting the national assessment this second semester of school year 2017-2018. ROGER ESCARILLA
Ombudsman recognizes L I V E
Office of the Ombudsman awards Leaders for Integrity, Victory and Education (LIVE) for it's meritorious achievement in the Campus Integrity Crusaders (CIC) Best School Project during the 2nd CIC Congress at Philippine Science High School, February 15.
Baranda caps Webpage Designing
Ms. Regine Baranda, Grade 9 ICT student, wins first place the Webpage Designing during Division Technolympics held at AMA- Makati Campus, January 13, 2016.
With the supervision of Mark Anthony Felix, Baranda, with her sharp memory, has able to sweep all other contenders of the webpage designing contest from all over Pasay.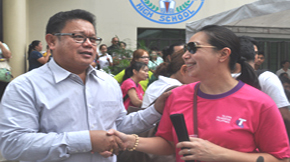 Telstra – Teletech Bayanihan Caravan 2015
  Telstra Foundation Philippines with PBSP held TELSTRA-Teletech Bayanihan Caravan 2015 last October 22- 23 , 20015 in PCNHS – Main School Grounds. They started the program by announcing their activities that would nurture every learner and encourage them to join the workshop.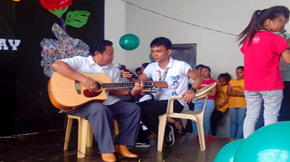 PCNHS Principal Sings during WTD Celebration
  Renato Mesada, Pasay City North High School's new principal, hailed the teachers with his lovely intermission number during World Teacher's Day.
   He sang the song Never Surrender by Cory Hart.
  "To all students, thank your teachers as they do their best to teach you in different learning areas. And to all teachers, never give up to teach our future heroes and love them as your own children,"Mesada said.



| | |
| --- | --- |
| June 13  | First Day of Classes  |
| July  | Nutrition Month Celebration |
| July 6 | Eid'l Fitr |
| August | Buwan ng Wika |
| Aug 18-19 | First Quarter Examination |
|  Aug 21 |  Ninoy Aquino Day |
|  Aug 27 |  Distribution of Report Cards |