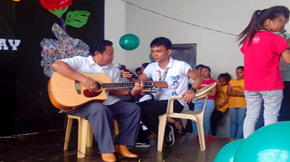 Renato Mesada, Pasay City North High School's new principal, hailed the teachers with his lovely intermission number during World Teacher's Day.
He sang the song Never Surrender by Cory Hart.
"To all students, thank your teachers as they do their best to teach you in different learning areas. And to all teachers, never give up to teach our future heroes and love them as your own children,"Mesada said.
Hail PCNHS Teachers!
Mesada surprisingly had an intermission number. He sang "Never Surrender" with his guitar which commemorates the hard works of teachers at PCNHS Gymnasium.
His intermission number will be reminiscence to the PCNHS as he is the first principal who performs in front of students.
Northenian's Reaction
As the new Principal, PCNHS students were surprised because of intermission number prepared by mesada.
"I was uninformed that Mr. Mesada can sing. He is so talented, he can sing and play a guitar," said by Janeth Ferrer of Grade 10 – Rizal.
His performance is dedicated to the teachers for their hard works and bestowal to the students.
by: Renzo N. Santiago / Grade 10 – Rizal