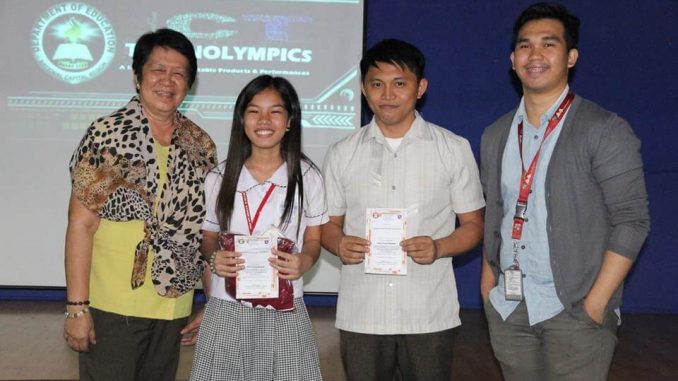 Regine Baranda, Grade ICT student, wins first place the Webpage Designing during  Division Technolympics held at AMA- Makati Campus, January 13, 2016.
With the supervision of Mark Anthony Felix, Baranda, with her sharp memory, has able to sweep all other contenders of the webpage designing contest from all over Pasay.
Baranda undergo an intense training- memorizing long codes which will be the design of the page, before the contest manifesting her great hunger to win the contest.
According to an interview before the competition, Baranda said that she is very determined to win the contest and to bring pride the school.
Election 2016 has been the chosen theme of the page to be designed. So with Baranda's invaluable technological skills, she was able to convey the enthusiasm of the country in search of transformational leaders for four hours allotted time.
After the actual contest, the contestants should explain their works on how they came up with those designs.
With Baranda's witty and confident explanations, she impressed the judges.
At last, Baranda unexpectedly wins and represents the division in the contest's regional category.
On the other hand, Web designing encompasses many different skills and disciplines in the production and maintenance of websites. The different areas of web design include web graphic design;interface design; authoring, including standardized code and proprietary software; and user experience design.
 by Mark Anthony B. Cabigas / Grade 10-Rizal